sellassie.net * sellassie05: ethio amazon store
groups.google.com/group/stagematrix [concepts]
---
TOPICS: art + video + hyper-bio + US present + past + polls + war + death + rasta + slides + history + cookbook + books + ethioblog + glossary
---
old S-n-S pages
---
Ethiopian & Rastafari
by Aster Sellassie, Millennium Ed.
Play : groups.google.com/group/playwright

... sellassie : sellassie.net & sellassie.info

Solomon, Sheba : flute, strings & drum [ energy ]

She writes him a letter -- a bird (hands) delivers it.

Kabuki -- invisible actors

2 (m,f) + 3 musicians (narrators) + in black (how many?)

Journey, travel, trip to Jerusalem

...
---
2009 - 2010 : open air repertoire -- Amharic [Children Seasons -- Pinocchio, first]
lul.vtheatre.net



Solomon To Sheba by William Butler Yeats


Sang Solomon to Sheba,
And kissed her dusky face,
'All day long from mid-day
We have talked in the one place,
All day long from shadowless noon
We have gone round and round
In the narrow theme of love
Like a old horse in a pound.'

To Solomon sang Sheba,
Plated on his knees,
'If you had broached a matter
That might the learned please,
You had before the sun had thrown
Our shadows on the ground
Discovered that my thoughts, not it,
Are but a narrow pound.'

Said Solomon to Sheba,
And kissed her Arab eyes,
'There's not a man or woman
Born under the skies
Dare match in learning with us two,
And all day long we have found
There's not a thing but love can make
The world a narrow pound.' 


Plus, in Amharic

from https://www.angelfire.com/ak/sellassie/page13.html
HIM home: appendix * books * new * references * FAQ * links * list * glossary * slides * help * sellassie.info * popup * classes.vtheatre.net * map * youtube.com/group/sellassie * ethioblog *
Film-North * webmaster.
* You are free to link to any page in filmplus.org/him.
© 2005 by vtheatre.net * books.google.com + scholar.google.com

anatoly2.0 : Anatoly XXI * Webman's * Anatoly ALL * film * theatre * feeds * links * anatoly.ru * bloglines * myLibrary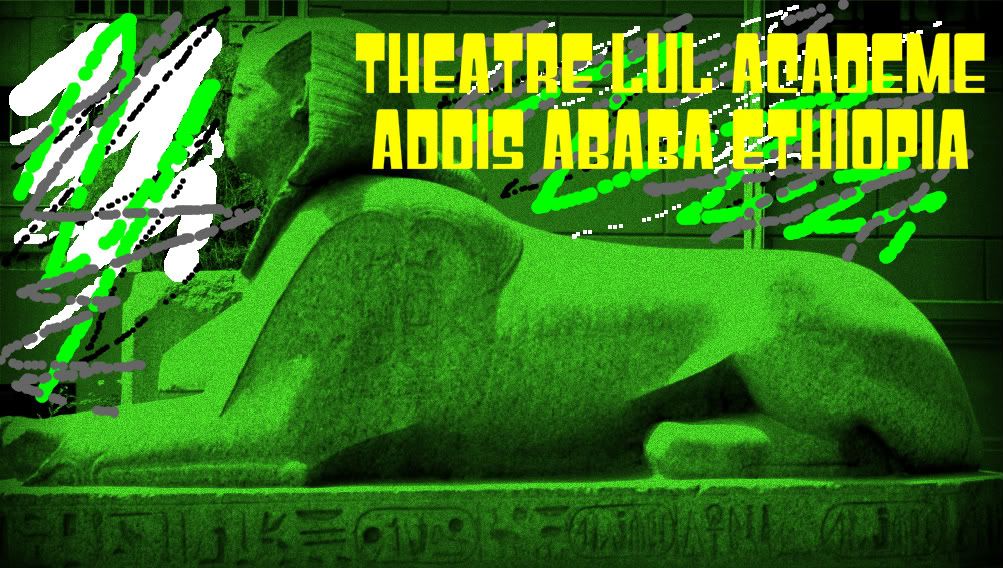 LUL-PARK ["After Dark"] Stages of Script/Show development :
Pre-production
Lul-Summers
Two versions : English/Amharic & Visual ? Online production list(s) for crew and cast as my old vtheatre groups?
Second season : 2010 - 2011