THR History * Images * theatre4.googlepages.com
---
TOPICS: drama + comedy + postmodern + american age + space + time + chronotope + direct + event theory + present + sex + past + marxism + shows +
---
"The worst sin toward our fellow creatures is not to hate them, but to be indifferent to them: that's the essence of inhumanity." -- George Bernard Shaw
---
FILM-NORTH & VIRTUAL THEATRE
---
[ advertising space : webmaster ]
text LINKS
---
---
A little bit of periodization is @ Films for Kids (cinema history)

Also, see Film&Drama

History of Theatre? THR215 DramLit

The 20th century drama -- THR413 Playscript Analysis
---
Connect with philosophy schools (Plato Girls)
This page was built for images!
("... history is best left to the historians." - J.L. Synge)
...
Summary
Theatre History on the Web *
Questions
Which of the following playwrights wrote Cyrano de Bergerac?
A. Emile Zola
B. Peter Shaffer
C. Edmond Rostand
D. Victor Hugo
Notes
For 2005: Pygmalion DVD * Play * My Fair Lady (script) * My Fair Lady DVD * Plays by Shaw * Sayings of George Bernard Shaw *

Tragedy: Sophocles, The Oedipus Cycle * Oedipus DVD * Pasolini (set) * Oedipus paperback * Theban Plays * Stravinsky's Oedipus *
4 Theatres:
as entertainment / art
as instrument of education
as weapon of social / political change
as document of history -the plays and the theatrical events of various periods can be seen as historical documents reflecting that period.
Brockett:

Living Theatre

The Essential Theatre

Cultural History

The Empty Space

The Theories of Theatre

Experimental Theatre

Barba:

Art

* The Theatre--Advancing by Edward Gordon Craig; Little, Brown & Company, 1919 - Part I - A Plea for Two Theatres: This Essay Is Dedicated to the Tired Business Man - A Durable Theatre - The Modern Theatre, and Another - In Defence of the Artist - The Open Air - Belief and Make-Believe: A Footnote to "The Actor and the Uber-Marionette." - Imagination - Part II - Theatrical Reform - Public Opinion - Proposals Old and New: A Dialogue Between A Theatrical Manager and An Artist of the Theatre. - Part III - Gentlemen, the Marionette! - On Masks: By A Bishop and by Me - Shakespeares Collaborators - In a Restaurant - "Literary" Theatres - Art or Imitation?: A Plea for An Enquiry After the Missing Laws of the Art - A Conversation with Jules Champfleury - The Theatre in Italy: Naples and Pompeii: A Letter to John Semar - Church and Stage: in Rome: "When in Rome Do as the Romans Do." - Thoroughness in the Theatre - On Learning Magic: A Dialogue Many Times Repeated - Tuition in Art: A Note to the Younger Generation of Theatrical Students - On the Old School of Acting - A Letter to Ellen Terry - Yvette Guilbert - Sada Yacco - New Departures - The Wise and the Foolish Virgins - To Eleonora Duse - Ladies, Temperament and Discipline - Part IV - The Copyright Law: A Suggestion for An Amendment - The New Theme: Poverty - The Voice - Theatrical Love - Realism, or Nerve-Tickling - The Poet and Motion Pictures - The True Hamlet - The Futurists - Fire! Fire!
Antoine and the Theatre-Libre by Samuel Montefiore Waxman; Harvard University Press, 1926 - Chapter I: Forerunners of the Theatre-Libre (the Dog Barks) - Chapter II: Henry Becque (and the Caravan Passes) - Chapter III: Andre Antoine - Chapter IV: The Beginnings of the Theatre-Libre - Chapter V: The Battles of the First Season (1887-1888) - Chapter VI: The Second and Third Seasons (1888-1890) - Chapter VII: Antoine's Dream - Chapter VIII: Censors and Sponsors (1890-1891) - Chapter IX: Curel and Brieux (1891-1892) - Chapter X: The High-Water Mark (1892-1893) - Chapter XI: The Last of the Theatre-Libre and After (1893-1896) - Chapter XII: The Influence of the Theatre-Libre
The Live Theatre: An Introduction to the History and Practice of the Stage by Hugh Hunt; Oxford University Press, 1962 - Chapter One: THE INGREDIENTS OF THEATRE - Chapter Two: THE RITUAL THEATRE THE THEATRE OF ATHENS - Chapter Three: RITUAL IN PERFORMANCE SOME PROBLEMS OF PRODUCING GREEK PLAYS - Chapter Four: THE SECULAR THEATRE NEW COMEDY AND THE ROMAN THEATRE - Chapter Five: THE PAGEANT THEATRE LITURGICAL PLAYS AND THE RELIGIOUS CYCLES - Chapter Six: A PLEA FOR PAGEANTRY SOME PROBLEMS OF PRODUCING MEDIEVAL MYSTERY PLAYS - Chapter Seven: THE PROFESSIONAL THEATRE THE STROLLING PLAYERS AND THE PUBLIC THEATRES - Chapter Eight: POETIC ACTION SHAKESPEARE'S STAGE-CRAFT AND CONTEMPORARY PRODUCTION - Chapter Nine: THE THEATRE OF ILLUSION THE INDOOR PLAYHOUSES AND THE RESTORATION THEATRE - Chapter Ten: ARTIFICIAL ACTING THE PERFORMANCE OF RESTORATION COMEDY - Chapter Eleven: THE GROWTH OF ILLUSION THEATRE DURING THE EIGHTEENTH CENTURY - Chapter Twelve: THE MATERIALIST THEATRE MELODRAMA AND SPECTACLE - Chapter Thirteen: THE THEATRE OF ACTUALITY THE BIRTH OF REALISM - Chapter Fourteen: THE CONFUSION OF STYLES THE THEATRE OF THE EARLY TWENTIETH CENTURY - Chapter Fifteen: THE NEW CONTINENTIAL AND AMERICAN THEATRE - Chapter Sixteen: REVOLUTION IN THE THEATRE BRITISH THEATRE TODAY - Chapter Seventeen: CREATIVE INTERPRETATION THE SEARCH FOR A PHILOSOPHY - Chapter Eighteen: THE PRACTICE OF THEATRE
Complete Shake:

12th Night

...
Taganka Page: Antigony 2006 (russian)
2007 year-pages
... showcases :
2008 : stoppard
2009 : caligari
... NEW : * NEW: goto.txt : AFTER 2009 : LUL pages : teatr.us Go.dot 2006 * * 100 years since Sam Beckett's birth * flickr.com/groups/stage * 2007 : the art of theatre [flickr] * 2008 : Stoppard *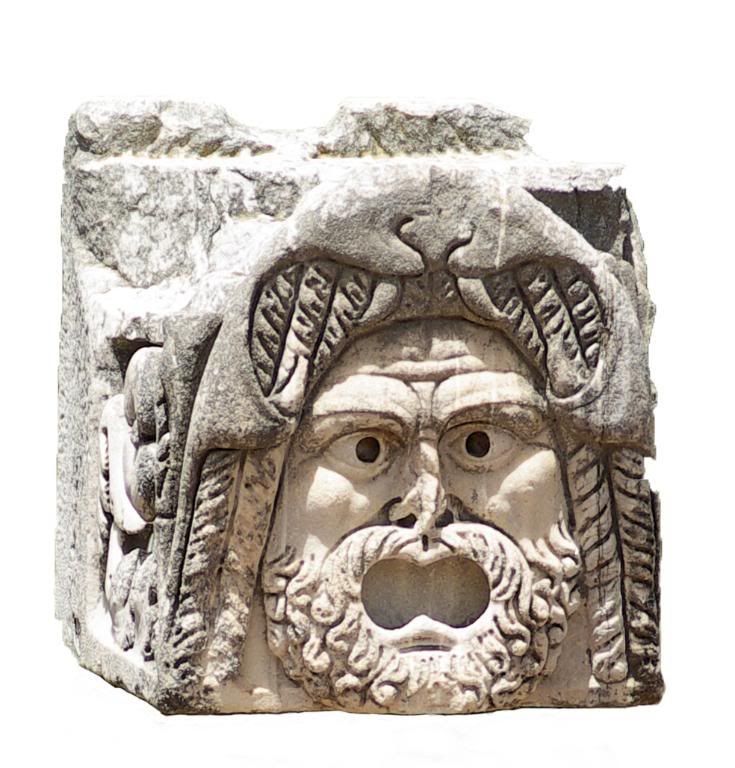 ---
Index * Theatre w/Anatoly * Books * Stagematrix.06 * Students * Spectator * Virtual Theatre * Script Analysis * SHOWS * Film Theory * Film Directing * Plays * Write * Web * Classes * Bookmark vTheatre! Mailing List & News -- subscribe yourself * Method Acting for Directors * Acting 101 * direct.vtheatre.net

stagematrix.com

groups.google.com/group/directing

groups.google.com/group/stagematrix

...
POVs :

* drama

* directing

... T-blog

Theatre History? No, I do not teach it. The drama classes -- DramLit and Playscript Analysis are the only ones which are near theatre history...
I do not like the very idea of history of theatre. Theatre is always alive. Everything from the past is fully present today. I use 'The Poetics' as a textbook and Shakespeare for directing and acting classes...
Well, I am not a theatre scholar.
Periods & Styles: if you read script.vtheatre.net, you should see THEMES subdirectory -- I try to rearrange the reading in topical, not chronological order. From Chekhov to Brecht, from Brecht to Williams, from Williams to Pirandello... (I don't know if the contrast will work. Fall 2003)

Both classes are not Theatre History courses, so, the history bground is important for analysis only.
Greek Drama
Sophocles "Oedipus Rex," Critical Reading -- The Poetics (Aristotle) The Classics Page @ script.vtheatre.net
Classical Theatre II
Shakespeare, Hamlet (sometimes one comedy, two -- 12th Night, Taming of the Shrew)
Classical Theatre III
Realism up to Chekhov
20th Century
Mostly in THR413 Playscript Analysis

*** 20th century should be broken into decades :
1900, Turn of the Century (Chekhov, Moscow Art Theatre)
WWI and Expressionism [ Brecht ]
The 20s -- film, radio (From Futurism to Dada)
30s -- "American Century"
40 -- Plastic Theatre (Williams) and Neorealism
50 -- From Miller to Beckett
60 --
End of the Century and Millenium Ephemera: Theatre History sources *
The Century of Cinema [ and Theatre ]
[ timeline -- bottom ]
bar.txt [ theatre theory ] Thr w/Anatoly blog * my notebook THEATRE 2008
AmDrama: 3 + 3 = (O'Neill - Williams - Miller) + (Albee - Shepard - Mamet1) and Kushner and others
http://www.antoninartaud.org/reinvention.html
...
use the contents below to hyperlink to my own pages + photo/images:

Understanding Plays, 3/E 
 
Milly S. Barranger, University of North Carolina-Chapel Hill

ISBN: 0-205-38190-1
Publisher: Allyn & Bacon
Copyright: 2004
Format: Paper; 752 pp
Published: 07/09/2003
US: $74.67
You Save: $7.47 (10% off)
Our Price: $67.20

Preface. 

I. INTRODUCTION. 

1. From Text to Performance. 

Drama and Performance.

Dramaturgy.

Drama's Stages.

Dramatic Time.

Drama's Landscapes.

Drama's Meanings and Messages.

Critics Notebook [notes].

Re-Visiting Drama and Performance.

[Photo]

II. ELEMENTS OF DRAMA. 

2. Understanding Play Structure. 

Drama's Special Mirrors.

Climactic Play Structure.

Episodic Play Structure.

Situational Play Structure.

Reflexive Structure.

The Tragedy of Hamlet Prince of Denmark, William Shakespeare.

Performing Hamlet. [showcase]

Critics Notebook.

Re-Visiting Play Structure.

Photo: Peter Brooks Hamlet at Brooklyn Academy of Music.

3. Understanding Character. 

Character's Doubleness.

Classical versus Modern Characters.

Observing Character-in-Action.

A Common Humanity.

Darwin, Marx, and Freud.

"Who's There?"

Postmodern Dissolution.

The Glass Menagerie, Tennessee Williams.

Performing The Glass Menagerie. [ case study ]

Critics Notebook.

Re-Visiting Dramatic Character.

[pix]

4. Understanding Language. 

The Verbal Text.

Language as Organization.

Conventions of Stage Language.

The Cherry Orchard, Anton Chekhov.

Performing The Cherry Orchard. 

Critics Notebook.

Re-Visiting Stage Language.

[ images ]

III. TYPES OF DRAMATIC WRITING. 

5. Tragedy. 

Origins of Theater and Drama.

Aristotle's Definitions.

Drama's Elements and Conventions.

Theories of Tragedy.

Oedipus the King, Sophocles.

Performing Oedipus the King. 

Critics Notebook.

Re-Visiting Greek Tragedy.

Photo: Smetana theater/Josef Svoboda Production, Prague.

6. Comedy. 

Origins of Comedy.

Theories of Comedy.

English Comedy and Neoclassical Theory.

The Comedy of Manners.

The Importance of Being Earnest, Oscar Wilde.

Performing The Importance of Being Earnest. [ Theatre UAF ]

Critics Notebook.

Re-Visiting High Comedy.

Photos

7. Farce and Satire. 

Background.

Farce and Comedy.

Satire and Society.

The Colored Museum, George C.Wolfe.

Performing The Colored Museum. 

Critics Notebook.

Revisiting Farce and Satire.

Photo: The Colored Museum, NY Shakespeare Festival Production.*

8. Tragicomedy and New Forms. 

The Mixed Genre.

Modern Tragicomedy.

Angels in America Part One: Millennium Approaches, Tony Kushner.

Performing Angels in America. 

Critics Notebook.

Re-Visiting Drama and Society.

IV. UNDERSTANDING MODERN WRITING STYLES. 

9. Understanding Modernism. 

Background.


Fragmentation.

Modernist Theory.

Hedda Gabler, Henrik Ibsen.

Performing Hedda Gabler. 

Critics Notebook.

Re-Visiting Modernism.

Photo: Kate Burton in Hedda Gabler, Broadway, 2001.

10. Understanding Modern Realism. 

Observations on the Ordinary

The "New" Dramatic Text

The Photographic Landscape

Naturalisms "Case Studies."

The Well-Made Play.

Fences, August Wilson.

Performing Fences. 

Critics Notebook.

Re-Visiting Modern Realism.

Photo: James Earl Jones in Fences, Yale Repertory Theatre.

V. UNDERSTANDING THEATRICALISM. 

11. Understanding Theatricalism and Epic Theater. 

The Stage as Platform.

Epic Theory & Practice.

Epic Techniques.

Galileo, Bertolt Brecht.

Performing Galileo. 

Critics Notebook.

Re-visiting Epic Theater.

Photo: Brian Dennehy as Galileo in Goodman Theatre Production.

12. Understanding Minimalism and the Absurd. 

Background.

Absurdist Theory.

The Stage as Existential Void.

Footfalls, Samuel Beckett.

Performing Footfalls. 

Critics Notebook.

Photo: Billie Whitelaw in Samuel Beckett Theatre production of Footfalls.

VI. PLAYWRITING AT TEH MILLENIUM. 

13. Understanding Feminist Drama and Performance. 

Gender, Art, and Politics.

Feminist Theory.

Feminist Play Structure.

How I Learned to Drive, Paula Vogel.

Performing How I Learned to Drive. 

Critics Notebook.

Re-Visiting Feminist Theatre.

Photo: Mary Louise Parker in How I Learned to Drive, Off Broadway.

14. Understanding the "New" Docudrama. 

Reconstructing Modern History in the Epic Style.

The "Living Newspaper."

The "New" Documentary Play.

The Laramie Project, Mois¨¦s Kaufman.

Performing The Laramie Project. 

Critics Notebook.

Revisiting Documentary Theater.

Photo.

15. Understanding the Solo Performance Text. 

Performance: A Definition in Three Keys.

Performance Art.

Solo Performance: Theory & Practice.

Shaping the Solo Performance Text.

Of Mice, Bugs and Women (The Secaucas Monologue), Deb Margolin.

Performing The Secaucas Monologue. 

Critics Notebook.

Re-Visiting Performance Art.

Photo: Deb Margolin in Performance.

16. Understanding Interculturalism. 

Background.

The Intercultural Text.

U.S. Hispanic and Latino/Latina Playwriting.

Broken Eggs, Eduardo Machado.

Performing Broken Eggs. 

Critics Notebook.

Photo: Production of Broken Eggs, Repertorio Espanol, Off Broadway.

Asian-American Playwriting

Golden Child, David Henry Hwang

Performing Golden Child. 

Critics Notebook: On Asian-American Drama

Re-Visiting Interculturalism.

Photo: Production of Golden Child, East West Players, 2000.

Appendix. 

Play Analysis and Conceptualization: A Process, by Gayle M. Austin 
List of Critical Terms. 
Selected Readings. 
Index. 

theatre history pages in one place?
Film-North * Anatoly Antohin * eCitations
© 2005 by vtheatre.net. Permission to link to this site is granted. books.google.com + scholar.google.com
cite: anatoly antohin. URL + date [ my shows : 1. writer * 2. director * 3. dramaturg * 4. actor ]
vTheatre: pomo project'06 * my yahoo: theatre
History @ CLASSES directory *
thr theory home: new * appendix * links * list * biblio * references * faq * notes * dictionary * flickr * swicki * domains * archive * store * popup * virtual theatre * 2007 * directing class list * total director + amazon.com/kindle