[an error occurred while processing this directive] Spectator *
---
TOPICS: + space + virtual + drama + comedy + postmodern + american age + self + POV + death + resurrection + beyond theory + sex + communism + webbing +
---
There are three ways to go from here: up -- for Theatre Theory, down -- applications of Spect Idea in directing, acting and etc. And -- to the Virtual Theatre pages...
One more -- read my nonfiction!

Featured Links: Theatre Theory directory

ReSearch Directory

Theatre w/Anatoly: intro pages


Classes: Aesthetics
meyerhold.us

Method for Directors?
stanislavsky.us

New directory: Spectator-Text

ShowCases: 3 Sisters, Mikado, 12th Night, Hamlet, The Importance of Being Earnest, Dangerous Liaisons, Don Juan
prof. Anatoly Antohin Theatre UAF AK 99775 USA (907)474-7751

my eGroups

All my theatre projects are around Virtual Theatre. Some of them came straight from the classes I teach: acting, directing, drama analysis and could be developed into textbooks. The 200X Files: Love of Beauty is a sort of intro to The Book of Spectator.

System of the Method is Stanislavsky for directors (How to work with actors), Biomechanics is Meyerhold for Actors (How work the Text and Time-Space). There are amorphous directory like Theatre Theory and the entire Film-North site (the Film wing of the Virtual Theatre).

Script Analysis of the Century is about the writing for stage (and somewhat of the 20th century history of themes and ideas).

There are two directories without directions: Web and Shows, although I think that they serve as a support files.

I can push StageMatrix (directing), Biomechanics and System of the Method to final drafts. In order for me to work on Virtual Theatre itself, I have to rework the Film Project first.

I am to go back to "Love for Beauty" to make it into intro level for SpectActor.

What's next?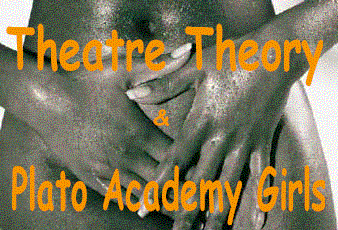 Paul Virilio: The Event Landscape - A Perspective over Time

Christopher Alexander's title: "A Foreshadowing of 21st Century Art" implies the emergence of a new of aesthetic appreciation, that separates the postindustrial, multimedial civilization now emerging from the mentality of the mechanized Newtonian age of the 17th through 20th centuries, much as the emerging Renaissance consciousness saw a separation from medieval mentality. Jean Gebser had, some 50 years ago, seen this historical pattern, and had drawn up his version of the "Foreshadowings" of the coming transformation. But he could not yet account for all the crucial natural science and technological influences on the new type of consciousness emerging. Especially, he could not envision the effects of the just-then starting computing movement. His framework of the mental structure was based on a spatialization of the world, hence the other key term of his work: the perspectivic mind, which subordinated its world in the hierarchical framework of spatial visualization. Spatialization of time was, as we recall, also a main component of Einstein's theory.

Paul Virilio (1998) has given us another important document of the new type of consciousness emerging. We may note, though, that this image is entirely contained within the perspectivic metaphor which Gebser assumes that the world is breaking away from. It is called the Event Landscape.

Virilio (1998, transl. A.G.): For God, all of history is an event landscape. For Him there is no succession, because everything is there in the moment... This hardly imaginable transhistoric landscape extends across all eons, across all epochs, and from one eternity to the other. And in this hardly thinkable landscape arise, since the beginning of time, the generations, which draw contrasted outlines against the horizon of an eternal present... A time landscape, in which the events are taking the place of a surface pattern... in which the past and the future are emerging out of one and the same movement, and their synchronicity is manifesting self-evidently. *
Summary
"Remove these [scenery, auditorium, stage, costume, mask] and there will probably fall apart to separate pieces, leaving nothing inside … but the Player and the Audience." [Southern, 1962, 21]
Questions
spectator.vtheatre.net
Notes
new: 2003 *

Index * Theatre w/Anatoly * Books * Virtual Theatre * Theatre Theory * METHOD acting * WebTheatre * Directing * Script Analysis * Acting * Biomechancis * Bookmark vTheatre! Mailing List & News -- subscribe yourself * SHOWS *
PS
Theatre is the projected dramatism, which lives in each of us...
The End
One as Many and Many as One
Believe or not, that's how everything starts -- from the end.

That's how the story is formed. Including this book.

Without the end there is no beginning, my friend.

You have to close this book and read other books. On directing, acting... Read my books, first.

If you are in theatre, whatever you do, be a good spectator. If can do it, you can act, write, direct.

Learn how to be good in the art of spectatorship. This is more difficult than learning the skills of any proffesion.

In order for you to become a great spectator, you have to become professional human being!

You see, I told you, it's not easy.

But doable.

Do it!

What else do you have to do with your life anyway?


Book of Spectator
Besides, the rest of the Spectator's Files will be done on Virtual Theatre webside. See you there! Wait, wait, Anatoly! What is this "One as Many and Many as One"?

Simple. Long ago Marxism established that any individual as a sum of functions (One as Many), they, that crowd inside, are not always in sink with each other -- a lot of crazy people and idiots as a result.

What is "Many as One"? Another look at the same situation, when the present and the past lives of many blend into one (unique) combination known as "Individual"? (Of course, he is very "dividual" -- we cplit atoms, the humans fall apart themselves!)

Seriously, what do you think the computor is? Take a good metaphysical look at your monitor. Don't you see that any product (especially of the high technology) is the result of the MANY being orgaznized into ONE?

What does it have to do with the theatre?

Hey, didn't you the other pages before you got to PS? did you read Bakhtin's books? Foucault, Deleuze, Verilio?

Don't you know that THEATRE is collective art in PRINCIPLE?

No? Too bad.

NB. I have to return to the pages of "The Book of Spectator" -- every textbook is asking for it. Besides, I am not working on Virtual Theatre (too technological). Maybe I should find the way to connect this manuscript with POV and TECH nonfiction projects...

©2004 filmplus.org *


Go.dot.06

* home * about * guide * webmasters wanted * classes * advertise * faq * contact * news * forums * mailing list * bookstore * ebooks * search * calendar * games * polls * submit your link * web *

@2002-2003 ©2004 filmplus.org * spectator * Get Site Info * Next: vTheatre *

2007-2008

2004 & After

in focus: StageMatrix

reading: see BOOKS pages in all directories
Chekhov, Ibsen, Shakespeare
The Spectator: Talk about Movies and Plays with the People Who Make Them by Studs Terkel

ISBN: 1565845536 Subtitle: Talk about Movies and Plays with Those Who Made Them. Foreword: Wills, Garry : Wills, Garry Publisher: The New Press Subject: Dramatists Subject: Entertainers Subject: Theater - History & Criticism Subject: Dramatists -- Biography. Subject: Dramatists -- Interviews. Subject: Film - History & Criticism Subject: Biography Publication Date: September 1999 Binding: Trade Cloth Language: English Illustrations: Yes Pages: 364 Dimensions: 945x639x124 149

Book News Annotation:
A collection of previously unpublished interviews with some of the greatest luminaries of film and theater of the 20th century, by a Pulitzer Prize-winning oral historian. Interviews were conducted over the past 45 years on Terkel's nationally syndicated radio show. Some figures interviewed include Arthur Miller, Marlon Brando, Zero Mostel, Ruth Gordon, and Marcel Marceau. The volume lacks a subject index. Annotation c. Book News, Inc., Portland, OR (booknews.com)

Review from San Francisco Chronicle Book Review, 09/12/1999: "THE SPECTATOR, in fact, is a very bad book-inane, lazily assembled and without point....Terkel doesn't press or pursue-he often seems instead to fixate on some specific word or detail, thereby missing the more general flow of thought altogether-and so permits most his interlocutors to lapse into that familiar conversational ploy, the self-referential bromide." -- Erik Tarloff

Review from Chicago Tribune, 9/26/1999: "The author's voice is also an obvious and dominant factor in this anthology, not only in the direction of the interviewer's questions, but in the complex editing process undertaken for the book. At one point in his long interview with the witty and entertaining Carol Channing, for example, she mentions Tallulah Bankhead, and Terkel inserts two paragraphs of an interview with Bankhead before continuing his talk with Channing." -- Richard Christiansen

Review from Nation, 12/13/1999: "In THE SPECTATOR, a compendium of forty-five years of wonderful conversations with film and theater people--to be followed by a similar volume on writers--the everybodies who talk to Studs actually include a mime." -- John Leonard

Synopsis: One of America's most famous talkers, Terkel here collects a career's worth of conversations with actors, playwrights, and directors, including Lillian Hellmann, Federico Fellini, Marlon Brando, Tennessee Williams, and Edward Albee.

Publisher's Note: This major new work includes more than 40 never-before-published interviews in which the Pulitzer Prize-winning oral historian elicits frank, funny, and surprising conversations about the past half century of dramatic arts.

Table of Contents: Overture -- Prologue: morning, noon, and night (with Jack Kirkland) -- Act One. Beginnings. In the wings (with Francois Truffaut). Buster Keaton. Lillian Gish. King Vidor. Vittorio De Sica -- Say it with music. Eubie Blake. Agnes DeMille. Carol Channing (and Talluah Bankhead) -- Hard Times. Arthur Miller. Eva LeGallienne. Hiram (Chub) Sherman. E.Y. (Yip) Harburg. Harold Clurman. -- Chicago Boom-Boom. James Cagney -- War. War movies. On seeing The Deer Hunter. Pauline Kael -- O Death. Lila Kedrova. Reflections on The Last Mile and Watch on the Rhine. John Randolph on Alfred Lunt --Kindness of strangers. Tennessee Williams (and Claudia Cassidy). Geraldine Page. Marlon Brando -- Act Two. Ways of seeing. Federico Fellini (and Marcello Mastroianni and Alain Cuny). Rene Clair. Satyajit Ray (and Ravi Shankar) -- Ways of doing. Francoise Rosay. Ruth Gordon. Simone Signoret -- Ways of seeing II. Ian McKellan. Jonathan Miller -- A touch of Shaw. Sybil Thorndike. Robert Morley -- Bert and Sam: Brecht and Beckett. Kenneth Tynan (and Peter Hall). Lotte Lenya (and Arnold Sundgaard). Joan Littlewood. Alan Schneider. Gilbert Moses (and Joe Lattimore). Rick Cluchey. E.G. Marshall -- Act Three. Solo flight. Ruth Draper. Emlyn Williams. Hal Holbrook -- Out of the shadows. Moms Mabley. Lorraine Hansberry. James Baldwin. August Wilson (and Clifford Burke) -- Success. Arnold Schwarzenegger. Uta Hagen -- Winners and losers. William Saroyan (and Bill Veeck). Jose Quintero. Jose Quintero and Jason Robards. E.G. Marshall. Edward Albee -- The Clowns. Marcel marceau. Jacques Tati. Zero Mostel (and Eugene Ionesco) -- Epilogue. Burr Tillstrom.
The Theatre Banner Exchange
Quotes & Thoughts: