Theatre? "I can take any empty space and call it a bare stage. A man walks across this empty space whilst somebody else is watching him, and this is all I need for an act of theatre to be engaged." [Peter Brook, 1968, 9]




---
[ advertising space ]
---
Stage Directing Theory

I hope that the POMO dictionary on my pages now can be of use. I do not know how and how much I can use from the notes on postmodern in my nonfiction books: Self, POV, Tech, but that was the time and place, when and where I understood the direction of my interest. The moment we make a spectator into a central player, we have to revise our perception of theatre and what is going on stage, because the real drama takes place not on stage but inside your mind and heart, when you see it. Here is the first problem -- I said "heart"! Well, thanls to the postmodernists the usual division between theory (mind) and art (heart) is not there anymore. Some categories like "Desire" became legitimate scholary subjects (Deleuze).

Also, it will get confusing first, because I intend to bring in the "wrong" subjects. Never mind, the postmoderm or the Web with its green "history" -- I want to bring in the theology and even my ideas of resurrection....
I have to appologize in advance for the lack of references and notations; I will get to it, if and when I am to work on the book -- right now, consider it the "notes style"...
Anyway, if you see me stopping from going further in my classnotes, now you know, where to go -- here.

Links

Featured Pages: Theory

ReSearch Directory

Theatre w/Anatoly: intro pages


Classes: Aesthetics
meyerhold.us

Method for Directors?
stanislavsky.us

New directory: Spectator-Text

ShowCases: 3 Sisters, Mikado, 12th Night, Hamlet, The Importance of Being Earnest, Dangerous Liaisons, Don Juan
prof. Anatoly Antohin Theatre UAF AK 99775 USA (907)474-7751

my eGroups


HamletDreams 2001: mindscape

The references:

New: The Academy and Academy Girls:

Cast: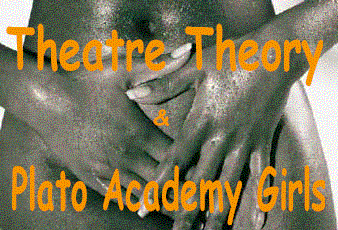 Screenwriting Poll *
Summary
Questions
spectator.vtheatre.net
Notes
I still do not put it right: show = spectator. The good show, I mean.

Theatre of One

All right, I don't know what I am doing!

I kept writing my metatexts for many years (POV, Self and so on) and at the same time my notes on Web. Next -- Virtual Theatre files (and productions). And this directory as well without realizing that they all are CONNECTED!

I talked in advanced classes about POMO (postmodernism) and never had I chance to stop and look at the big picture, to see what this Anatoly is doing!

Well, now I have to link them and find the logic of organization of this super-project. And the form! Yes, yes, because it has to have the hyperdrama organization. And the tone? The style...

I consider this subject as the most important for understanding of theatre...

Nevertheless, I have no time to work on this book!

Maybe, it will grow from the Theory pages... by itself.

Any show doesn't exist outside of you, spectator!
Okay, as you can see I want to give a new life to my Theatre Theory pages, using the Plato' style dialogues (and pix). In short, I remaned the three parts of the THR directory into Three Acts! I casted my favorites (on the right) into this show. So, instead of files (what an ugly KGB name!) we will have scenes! What else? Of course, it's a comedy. Yes, because of the happy end. There are some characters I haven't inroduce yet, some are in other books (Stanislavsky, Meyerhold, Chekhov), but I still have to find the forms of the conflict between Artists and Thinkers (Plato)... That's where the "Plato Academy Girls" come in! I still don't know who are the good guys -- artists or philisophers (both are bad). But the play is there!
No, seriously! I try to figure out some hierarchy in my webpages: looks like the Theory Theory is after The Book of Spectator. Whatever I can't explain in one, would go to the next level of theory. Yes, where the girls are. Listen, I needed some visual finale for the "files" -- it's theatre after all!
One more thing -- I don't want to call them (on the right) "characters": they are my "heroes"!