Forms *
---
TOPICS: drama + comedy + postmodern + aesthetics + film analysis + filmmaking + showcases - theatre + spectator + method + biomechanics + acting one + thr w/anatoly + plays +
---
Classes * METHOD acting * 200X * Film Dir * Books Index * Theatre w/Anatoly * SHOWs * Script Analysis * Acting * Directing * Russian-American Theatre (RAT) * Film-North * Students Directory * VIRTUAL THEATRE * GeoAlaska * Mailing List & News -- subscribe yourself *
film + theatre blog *
FORMS & Samples
If you have a talent -- Organization is everything!
---
Forms for film directing classes:
For Storyboarding go to Directing Page
Log-forms
Always keep your logs. You'll save yourself a lot of time later -- at the editing stage.
...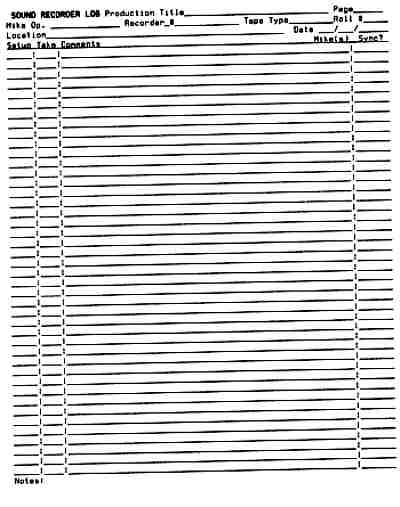 ---
Samples of storyboards from students projects.
Advice: take the forms from the master-file Directing 331 (on reserve in the Library), copy all (don't forget to put them back). Work first with "pictures only" form, next with 2-shot form, and finally with "One-shot" form. Use the idex-card system to toss your shots on the floor. Or place them all (pictures only, shot-by shot) on the wall.
---
"Three-shots page format (plain)" form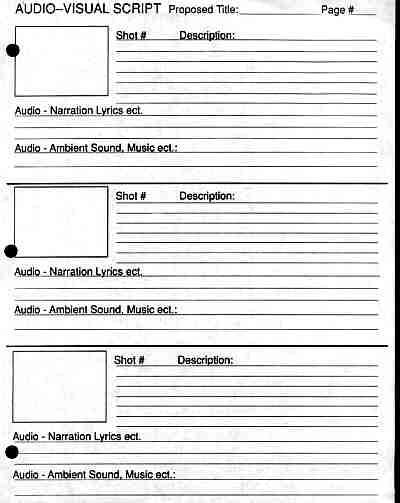 Two-shots storyboard form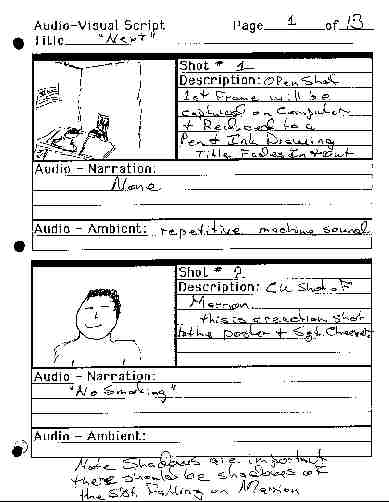 (I have to find a better way to scan the forms).

Or even better, to have it in electronic on-screen formats. Well, wait when I'll learn the form-on-line tricks!
---
ffaga@uaf.edu
@2000-2003 film-north * amazon.com * ©2004 filmplus.org *

* home * about * guide * classes * advertise * sponsors * faq * contact * news * forums * mailing list * bookstore * ebooks * search * calendar * games * polls * submit your link * web * shop *

Get Site Info

bar.txt : classes.vtheatre.net -- [ 0 ] [ 1. film ] [ 2.theatre ] calendar.yahoo.com/anatolant webmaster + Live Writing Advice
Quotes & Thoughts:
2005-2006 Theatre UAF Season: Four Farces + One Funeral & Godot'06
Film-North * Anatoly Antohin
© 2007 by vtheatre.net. Permission to link to this site is granted. books.google.com + scholar.google.com
anatoly2.0 : Anatoly XXI * Webman's * Anatoly ALL * film * theatre * feeds * links * anatoly.ru * bloglines * myLibrary
classes home: [ 1 ] [ 2 ] new * appendix * links * glossary * books * notes * faq * archive * keywords * swicki * flickr * references * aStore * amazon.com/kindle * 2008