BM Tests * Bookmark vTheatre! amazon.com *
2009 :

stagematrix + cine101

Michael Chekhov
[ advertising space : webmaster ]
THR221 Intermediate Acting

GeoAlaska: Theatre & Film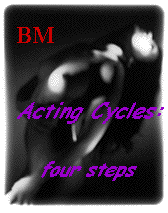 biomechanics.vtheatre.net
Spring 2003: Don Juan
film books

virtual theatre

THR121 Fundamentals of Acting Fall 2004

ShowCases: 3 Sisters, Mikado, 12th Night, Hamlet, The Importance of Being Earnest, Dangerous Liaisons, Don Juan

prof. Anatoly Antohin Theatre UAF AK 99775 USA
2006 *

* stageplays *

WWWilde Y2K Forum: archives

Questions: Tests, Quiz, Exam, Test, Mini-Test

2004 & After
2007

Beckett "four corners"

and

Anatoly After Theatre UAF
---
INDEX * fundamentals of acting * Theatre w/Anatoly * Virtual Theatre * Theatre Theory * Virtual Theatre Forum * Classes * Method * StageMatrix: Directing * Script Analysis * Shows * Spectator * Plays * FilmMaking 101 * vTheatre * 200X Aesthetics * Mailing List & News -- subscribe yourself * BM+ *
& thr blog
BioMX Theory for Actors
Test (Yourself) Before Test
Instructions:
1. Click the red button next to each answer you think is most correct.
2. If you do not know the answer, do not guess, since wrong answers are penalized.
3. If you check the wrong red button, simply click the correct one to change it.
4. If you have checked a red button with a guess and wish to deselect all red buttons for that question, just click the lit red button.
5. When finished, click the "Click When Finished Button" at the end of the test. Your score will appear below it, and all correct answers will be lit with a green button. Check over the "green lit" answers you didn't know to assist you in knowing what areas you still need to study.
---
---
Examples of the monologues and scenes for analysis are from the old (Method) directory (see Shows index).
Dramatic Analysis is required for BM no less than for the Method. In fact, I consider Method to be the first step for BM analysis. (At the end of his life Stanislavsky also was teaching "Method of Physical Actions"). Only after the analysis an actor can trully be ready for physical action. BM are about strong choices, visible and performable. The strong movement can be repeated and repeated by others. I recommend to do it in class: pass your choice to the rest to shape and to test it!
@2000-2003 THR w/Anatoly * Next: exam *
Summary
Print this page; write your answers under the "Homework" (keep it)!
Homework
Do your scene!

©2004 filmplus.org *

* home * about * guide * classes * advertise * faq * contact * news * forums * mailing list * bookstore * ebooks * search * calendar * submit your link * web * you may link to any page in my sites


Virtual Theatre: Stage, Film, Web = Future Forms, Theatre of One, the SpectActor!
Get Site Info
(c)anatoly : filmstudy.org & vtheatre.net
Quotes & Thoughts:
2007
An online course supplement * 2005-2006 Theatre UAF Season: Four Farces + One Funeral & Godot'06
Film-North * Anatoly Antohin * eCitations *
Acting amazon
biomechanics home: 0 * 1 * 2 * 3 * 4 * appendix * links * references * notes * faq * archives * biblio * popup * list * 2007 google.com/group/acting2 * notebook * amazon.com/kindle * my shared page * lul teatr
igoogle.com | my.yahoo.com | my.live.com | my.msn.com
CALIGARI'09 groups.yahoo.com/group/vtheatre/cal CAST calendar [ Anatoly's calendar : web-events & LUL news ]