"Never let yourself get between you and your character." - Michael Caine

[ advertising space : webmaster ]

"Theatre is not a mirror but a magnifying glass." Mayakovsky... A microscope? Isn't that what Method asks for? THR221 Intermediate Acting

GeoAlaska: Theatre & Film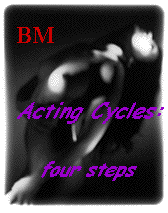 biomechanics.vtheatre.net
Spring 2003: Don Juan
film books

virtual theatre

THR121 Fundamentals of Acting Fall 2004

ShowCases: 3 Sisters, Mikado, 12th Night, Hamlet, The Importance of Being Earnest, Dangerous Liaisons, Don Juan

prof. Anatoly Antohin Theatre UAF AK 99775 USA
2006 *

* stageplays *

Psychological Realism? Emotional Truth?

WWWilde: BioMechanics as Style

I think that opposing the two schools is anti-productive; their historical rivary is behind us. For me both, Stanislavsky and Meyerhold, approacing the same subject from two different sides -- and both should be presented to students of theatre TOGETHER!

In America Method became so popular because of its applications to acting for the camera. Biomechanics are for the stage. Perhaps BM can be applied to physical comedy on the screen, but Meyerhold had STAGE ACTING in mind and the need of the actor in THEATRE.

Of course, there are a lot of pages are missing in BM book, but I can't put them in in fear to overload the texts. "Beats and Units" -- for example. Very important, but it belongs to the playscript analysis and I have to do it there. Another -- reaction to the character's past, present and future. It's for the Method, not BM... although it has to be expressed physically. If you look at the archives of the Three Sisters (Forum), you will notice how actors struggle with the establishing, the past, present & future. "Where did you come from?" "What did you do an hour ago?" "What will happend to Irina ten years from now?" You have to know it! Especially, because the character doesn't know!

"But, Anatoly, how I can find it in the text? It's not there!"

If it's not there, you put it in! Play is an open structure! It asks for your ideas, your guesses!

... Sometimes, I do not understand actors. I wrote plays, I remember, struggling with some of them for years. Struggling with a single word, comas, a period... And they read scripts like a newspaper! They do not study it!

And I think about what are they busy with? They would write in their journals about the problems with their boy-friends and girl-friends, but what about the problems Hamlet is facing? Why are they less real for you? Why is yiour problems are more important? Why don't you see that his problems are the core of your problems? Do you think that Hamlet is not "real"? Do you think that you are "real"? What the hell do you do theatre for?

I have to finish this thought. Why Theatre? There are so many other occupations in the world! Work in the bank. Theatre is about calling, you do not become a priest for money, why do think it is different for artist? In fact, I believe that theatre is the only true church left!

Go to Method Acting for Directors
---
THR221 Intermediate Acting (BM) Textbook Spring 2003:
Actors on Acting 051788478XSubscribe to my Open Class @ 12night
---
2003 * THR221 Intermediate Acting : new pages in BM+ @ biomechanics.vtheatre.net *

2004 & After
new: Konstantin Stanislaysky by Bella Merlin, University of Birmingham, UK Stanislaysky, undisputed pioneer of modern acting technique, continues to form the backbone of much drama teaching, actor training and theatre practice. Yet many of his ideas remain either elusive or misunderstood. This concise and readable book assesses and explains:
•his influence and life history •ground plans and theatre direction plans • his widely-read text An Actor Prepares.
It also gives both a detailed commentary of the key 1898 production of The Seagull and an indispensable set of practical exercises for actors, teachers and directors. It will prove invaluable for readers new to Stanislaysky while also giving some fascinating new insights to those familiar with his work.
September 2003: 198x129: 184pp: illus. 9 b&w photographs and 9 groundplans and theatre direction plans. Hb: 0-415-25885-5: Pb: 0-415-25886-3:
Summary
Method directory (Advanced Acting).
Questions
"There are no formulas... on how to become a great actor, or how to play this or that part... With strong desire, if you work, if you come to know your own nature, and discipline it, then... you will become a true artist." - Konstantin Stanislavsky




One Act Fest

Handbook of the Stanislavsky's Method *
Notes
new: Michael Chekhov by Franc Chamberlain, University College Northampton, UK Michael Chekhov was Stanislaysky's star student and a master acting teacher. Exiled from Soviet Russia, he made his way to Britain - and then to the United States, spending his last years as an actor and acting teacher in Hollywood. Along the way he introduced countless students to his acting technique known most famously for its 'psychological gesture'. Michael Chekhov's unique approach to and lasting impact on actor training are only now beginning to be fully appreciated. This volume provides, for the first time, a fully comprehensive introduction to:

• his life and times •his most notable productions • his classic writings • his practical exercises, including many unavailable elsewhere.

Invigorating and insightful, the volume will help students to engage their imaginations and understand this fascinating man and his work.

September 2003: 198x 129: 168pp: illus. 7 b+w photographs hb: 0-415-25877-4: Pb: 0-415-25878-2:
Method Acting Anecdotes * THE SEMIOTICS OF ACTING: FROM HIEROGLYPHS TO IDEOGRAMS by Edward Isser

Stanislavsky Technique: Russia (Applause Acting Series) It is virtually impossible to discuss modern acting or actor training without first mentioning the Russian thoerist and director Konstantin Stanislavsky. Complete in one volume, Mel Gordon explores the actor training systems of Stanislavsky and his two most important disciples, Evgeni Vakhtangov and Michael Chekhov, tracing the major teachings and refinements over the first 50 years of use by actors. Gordon reconstructs the actual exercises taught at the Moscow Art Theatre and various Russian acting studios, and he clears away the myths and confusion about the practical use of Stanislavsky's System. This volume contains: The Stanislavsky System - First Studio Exercises 1912-1916; Vakhtangov as Rebel and Theoretician - Exercises 1919-1921; Michael Chekhov - Exercises 1919-1952; and Stanislavsky's Fourth Period - Theory of Physical Actions, 1934-1938.

Peter Brook:

Гурджиев часто использовал образ актера как метафору полностью развитого человеческого существа. Он говорит о различных ролях, которые мы играем в жизни, выполнении всех требований, предъявляемых меняющимися ситуациями, полном вхождении в них при сохранении внутренней свободы. Именно это и требуется от хорошего актера. Поскольку театр показывает жизненные движения в особо концентрированной и легко распознаваемой форме, он является прекрасной лабораторией, где идеи обретают воплощение и могут быть немедленно проверены.

Хороший актер никогда не считает себя частью пьесы, которую он играет. Плохой актер телом и душой отдается своему образу -- настолько, что полностью теряет себя. Часто, уходя со сцены, он убежден в том, что это было лучшее выступление в его жизни, но всем остальным видно, насколько он был преувеличен, напыщен и неискренен. Но он не может осознать этого, так как глух и слеп: между ним и образом, который он воплощает, нет никакой дистанции, он поглощен тем, что Гурджиев называл "отождествлением". С другой стороны, чем лучше актер, тем меньше он отождествляется со своей ролью, и -- кажущийся парадокс -- чем меньше он отождествляется, тем глубже он может войти в образ. Он подобен руке в перчатке, все отдельно и в то же время нераздельно; роль вдохновляет его, но никоим образом не порабощает; внутри он свободен и полностью осознан. Начинающий актер не может достичь такой свободы; он пленник собственной неуклюжести, своих страхов, отсутствия понимания и желания понравиться другим. Он должен заниматься, упражнять себя и, хотя это и не выражается в подобных терминах, но в любой театральной школе, независимо от стиля, каждодневная работа -- это в первую очередь стремление к качеству. Интуитивно качество может видеть любой человек, и раскрывается оно очень простыми практичными cловами: "хорошо", "не очень хорошо", "лучше", "плохо". Эти оценки могут относиться к движениям, или к чувству, ритму или ясности мышления, но качество можно распознать всегда, и актер интуитивно стремится к тому, чтобы зритель ему сопереживал. Только тогда роль может создать правдивое впечатление. Правда может быть неопределима, но зритель сразу же распознает ее.

Для публики единственным критерием является качество. Во время выступления актер постоянно излучает поток энергии, прямо влияющий на качество внимания зрителей. В кульминационных моментах актеры и зрители едины, исчезает разделение между сценой и зрительным залом, и индивидуальные эго не мешают общему переживанию. В такие светлые моменты наступает особая тишина.

Что такое тишина? Как можно ее определить? Ведь тишина бывает разной. В начале выступления наступает шелестящая тишина тысячи людей, сидящих рядом друг с другом, каждый из них частично внимает, частично прислушивается к жужжанию собственных мыслей и забот. Затем мы пересекаем разные уровни тишины, один за другим, по мере того, как затрагиваются наши чувства, чувства, которые мы все больше и больше разделяем с окружающими нас людьми, пока нас всех не объединяет одна общая эмоция. Иногда качество тишины menяется, она продолжает углубляться, пока не достигает драгоценной точки, где можно слышать, как муха пролетит, где тишина полна и пуста одновременно, и в редчайшие моменты публика, как одно существо, входит в пространство несравненной красоты и очарования. Этот опыт точно показывает нам природу подъема и падения энергий, и помогает нам понять, что качество -- реально.

Однако искусство, в какой бы то ни было форме, может дать нам только отражения скрытой реальности, мимолетно и частично. Оно никогда не может привести к устойчивому пониманию. Подлинная ценность искусства кроется не в том, что оно являет собой, но в том, что оно предлагает. Оно дает нам возможность открыть в себе новые уровни осознания, восходящие к изначальному полю энергий, в котором все образы -- не более, чем исчезающие тени.

Stanislavsky in His Own Words * Method Basics

Method Quotes Russian