2009
LUL
[ advertising space : webmaster ]

"Meyerhold was arrested in June of 1939 in Leningrad; on February 1, 1940, he was sentenced to ten years of solitary confinement. His death centificate is dated February 2." Erenburg (67)
---
THR221 Intermediate Acting (BM) Textbook Spring 2003:
Actors on Acting 051788478XSubscribe to my Open Class @ 12night
---
THR221 Intermediate Acting

GeoAlaska: Theatre & Film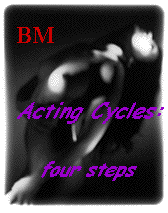 biomechanics.vtheatre.net
Spring 2003: Don Juan
film books

virtual theatre

THR121 Fundamentals of Acting Fall 2004

ShowCases: 3 Sisters, Mikado, 12th Night, Hamlet, The Importance of Being Earnest, Dangerous Liaisons, Don Juan

prof. Anatoly Antohin Theatre UAF AK 99775 USA
2006 *

* stageplays *

WWWilde: BM as STYLE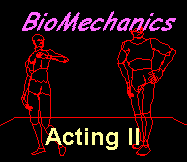 12Night: BM as Method

8+ ways to navigate & 5 ways to interact:

1. index pages -- top left
2. featured links -- right
3. hyperlinks within the text
4. my narrative -- "next" (at the bottom)
5. banners and images
6. search the site engine (right)
7. htmlgears
8. popup windows

1. guestbooks
2. htmlgears
3. my forums
4. online classes
5. email

Look through Act or Acting Index you see how much "bioMX" is in there!

FAQ @ THR w/Anatoly
FAQ @ Film-North

Anatoly, when will you finish this textbook?

Did you search for BM? I did: Yahoo!

It has nothing to do with what I write about! The medical field.

"Current affiliate groups are the American Society of Biomechanics, British Association of Sport and Exercise Sciences, Bulgarian Society of Biomechanics, Canadian Society of Biomechanics, Chinese Society of Sports Biomechanics, Comisia de Biomecanica Inginerie si Informatica (Romania), Czech Society of Biomechanics, Japanese Society of Biomechanics, Korean Society of Sport Biomechanics, Polish Society of Biomechanics, Russian Society of Biomechanics, Societe de Biomecanique (France), The Society also supports technical and working groups for the purpose of advancing knowledge in specialized areas within the field of biomechanics. Currently active are Working Groups on Sport Biomechanics, Shoulder Biomechanics, Functional Footwear and 3-D Motion Analysis... "

What -- "foot and shoulder"?

Oh, now you know, who is behind BM!

Fundamentals : BioMethod

Meyerhold @ Work *

Russian Theatre: fest.theatre.ru + cultu.ru (webcast)

* March 2006: Go.dot -- 100 years since Sam Beckett's birth *
Summary
2004:
Questions
Please, read acting for the camera pages in advance: Actors in Film Directing, Film in BM and Camera in Method Acting.

2004 & After
Drama is action, sir, action and not confounded philosophy. ~ Luigi Pirandello * All rights reserved : No part of this publication (or related documents) may be reproduced or transmitted in any form (in whole or in part) by any means, electrical, optical or mechanical, including photocopy, recording or any information storage or retrieval system, without permission in writing from the publisher.
Limited Use : Permission is granted to access, view and download these documents from our web site under the following conditions: Documents must; (a) be for personal use [or for educational or teaching purposes], (b) must not be sold or otherwise used for profit and, (c) must be left intact, unaltered and be complete with all Headers, Footers and Copyright notices.
Notes
Evaluation a Show (mini-form):
Play: _________
Playwright:
Style/Genre:

Characters: (list ones your remember)
Protagonist:
Antagonist:
Secondary :

Conflict (External and Internal):

Plot: (Linear * Epic * Cyclic * Plotless)
Summarise (including the subplots)

Theme(s):

Stylistic Features (Concept):

Theatricality:

Dramatic Appeal:

Representative Quote:



One Act Fest
What Is Theatre? : Incorporating The Dramatic Event and Other Reviews, 1944-1967 What Is Theatre?, originally published in 1968, collects all of Eric Bentley's theater criticism. Bentley's most productive years as a reviewer coincided with some of the greatest years of twentieth-century drama. His essays cover the premieres of works by T. S. Eliot, Tennessee Williams, Jean Anouilh, and Arthur Miller, among others, as well as subjects as far-ranging as Charlie Chaplin and the Peking Opera--and each contains insights that are still relevant. What Is Theatre? is essential reading for anyone interested in understanding what our American theater has been, is now, and could become.
epic theatre definition *
Performability versus Readability theatre-semio
2005 updates: Small Chekhov Fall * "Four Farces & One Funeral" -- Chekhov.05
Chekhov's one-acts are updated -- The Bear, The Proposal (1st act -- Oh, Love), Wedding, Tobacco (Act II -- Ah, Marriage!), but I'm still working on the "funeral" (Last Day of Anton Chekhov). mini-chekhov
I am teaching DramLit -- groups.yahoo.com/group/dramlit (subscribe) and see THR215 for subjects, topics, titles.
Spring 2006 -- Waiting for Godot, Beckett -- new pages ( see shows )

Script Analysis Actor:


Theatre Books Master Page *

Can I Send You An Email? ... if you want to ask me a question, please make sure I have not answered it here first. Search my webpages!

* Meyerhold's first attempt at non-representational staging occurred in 1903 with his production of Przybyszewski Snow and von Schönthan The Acrobats, staged by his own troupe, The Fellowship of the New Drama, a group he organized after his departure from the Moscow Art Theater in 1902.
[ The Theater of Meyerhold and Brecht by Katherine Bliss Eaton; Greenwood Press, 1985 ]

...
---
INDEX * fundamentals of acting * Theatre w/Anatoly * Virtual Theatre * Theatre Theory * Virtual Theatre Forum * Classes * Method * StageMatrix: Directing * Script Analysis * Shows * Spectator * Plays * FilmMaking 101 * vTheatre * 200X Aesthetics * Mailing List & News -- subscribe yourself * BM+ *
& thr blog
FAQ
I have FAQ in all my directories for one purpose -- I don't answer emails. I want to make my webpages "self-serve" type, like a machine. I want them to function without me. They should and they could. How long will it take to get there? I don't know, but I am working on it.
You read, you ask -- and the answer must be there...
First, I am surprised to see a lot of folks searching my websites for Biomechanics. Second, I do get emails about Meyerhold. Third, the books about Meyerhold are out of print!

The questions:

1. Why was Meyerhold executed?

2. What did happen to Meyerhold's theatre?

3. Was Meyerhold a communist?

4. Was Meyerhold a Jew?

5. Why was Meyerhold against the Method Acting?

6. Did Stanislavsky recognize Meyerhold's Biomechanics?

7. Where is Meyerhold's grave?

8. Where can I see Biomechanics on stage?

---

See my webpages! The "questions" sections!

Write back!

Search pages for answers!

Ask questions!

Post them to BM List!

Subscribe!

Anatoly 2001

PS. 2002: still working... and not on BM pages.

Connections with other approaches to acting training:

The Alexander technique is a method of movement and alignment that teaches people to use their bodies more efficiently. It helps individuals improve their posture, let go of muscle tension, and move with greater ease. The goal of this technique is to eradicate such poor habits as slouching and tensing (which can lead to pain, decreased mobility, and other health problems) and replace them with good postural habits.
The originator of this technique was Frederick Matthias Alexander (1869-1955), an Australian actor who suffered bouts of hoarseness on stage. When medications and rest failed to help him, Alexander found his career in jeopardy. Using mirrors, he observed that the way he lowered his head and tensed his neck muscles when he recited his lines was restricting his vocal cords. He realized these habits were so ingrained that they had probably become second nature to him. He worked hard to correct his posture, and found that when he did so his voice was restored. Based on this personal success, Alexander created his eponymous technique around 1896 and published his first book about it, Man's Supreme Inheritance, around 1910.
Alexander was so successful that other actors and artists, George Bernard Shaw among them, sought his help. Eventually he stopped acting and created a formal program to promote his method. Today the Alexander technique is taught all over the world. Many performing arts schools incorporate Alexander's precepts into their curricula, and athletes also use it to help prevent injury. In addition, people suffering from back problems and other types of chronic pain have turned to Alexander's methods to ease their discomfort and to improve postural habits.

PS

I have so many questions. Where is this FAQ page I need to get to?

NB

This and the Glossary page can't be finished... Movement and Body: BIOMECHANICS – Physical Actor Training
The anti-naturalist system of acting.

Homework

Search and Research!

Kiebuzinska, Christine Olga "Book Review: Meyerhold: A Revolution in Theatre, and: Meyerhold, Eisenstein and Biomechanics: Actor Training in Revolutionary Russia"
Theatre Journal - Volume 48, Number 4, December 1996, pp. 519-521 The Johns Hopkins University Press
"Few artists have influenced twentieth-century theatre as profoundly as the Russian director Vsevolod Meyerhold. A ceaseless experimenter with new forms and techniques, Meyerhold used theatre as a laboratory to try out the expressive limits of myriad approaches, from symbolism through commedia dell'arte, circus tricks, and clowning to Kabuki, montage, agit-prop, suprematism, and constructivism. His collaboration with the artists Alexander Golovin, Kazimir Malevich, and Liubov Popova, the playwrights Vladimir Mayakovsky and Sergei Tretyakov, the composers Alexander Glazunov and Dmitri Shostakovich, and the film director Sergei Eisenstein transformed the very vocabulary of theatrical representation. There are indeed few innovations regarded as avant-garde in today's theatre that Meyerhold did not think up and put to use at some time during a career spanning some forty years, influencing successors such as Bertolt Brecht, Jerzy Grotowski, Peter Brook, Joan Littlewood, Eugenio Barba, Ariane Mnouchkine, Yury Lyubimov, Tadeusz Kantor, and Roman Vitiuk."

@2000-2004 contents * Next:

©2004 filmplus.org *

* home * about * guide * classes * advertise * faq * contact * news * forums * mailing list * bookstore * ebooks * search * calendar * submit your link * web * you may link to any page in my sites


Virtual Theatre: Stage, Film, Web = Future Forms, Theatre of One, the SpectActor!

Get Site Info "IN a way, Shotgun Players' ambitious, exciting "The Death of Meyerhold" is like a musical biography along the lines of, let's say, "Funny Girl" or the more recent "The Boy from Oz."

You take an intriguing figure from history -- in this case the Russian director Vsevolod Meyerhold -- and you dramatize the key moments in a momentous life. In between the boring scenes, you stir things up with exciting song-and-dance numbers.

Writer/director Mark Jackson's "Meyerhold" is not a musical, per se. There's plenty of lush Russian music on the sound system (Shostakovich, Knipper, Soloviyov-Sedoy), but instead of songs, Jackson incorporates Meyerhold's somewhat bizarre performance methodology.

Where Meyerhold's contemporary (and teacher) Stanislavski believed in psychological realism and method acting, Meyerhold created what he called "biomechanics."

This approach, which Meyerhold developed in the 1920s and '30s, focused much more on the physical and borrowed heavily from Japanese Kabuki and Italian commedia dell'arte. The system relies heavily on rhythm and exaggerated movement and asks actors to work from the outside in.

Seeing biomechanics on stage is not unlike watching dancers perform without music but with the addition of dialogue.

Meyerhold's new method was revolutionary, but not nearly so bloody as the revolution occurring in the streets of Russia in the first half of the 20th century.

As Jackson's play offers thrilling examples of biomechanics in action, he also unfolds Meyerhold's biography -- his clashes with Stanislavski, the formation of his various theater companies, his marriage to the actress Zinaida Raikh, his ultimate success and finally his arrest and execution by Stalin's henchmen.

Jackson, the founding artistic director of Art Street Theater, was pulled into the Shotgun fold by artistic director Patrick Dooley, who's also a member of the "Meyerhold" cast. As Dooley could probably tell you, he, along with his 11 fellow actors, was given extensive training in biomechanics to fully realize Jackson's vision and to accurately represent Meyerhold's lasting contribution to world theater.

As a director, Jackson is wildly talented. His dynamic use of the stage at Berkeley's Live Oak Theatre makes excellent use of Leonard Bechler's simple, solidly built platform set.

Action unfolds on multiple levels, and the use of red curtains lends just the right amount of color.

The cast features a number of Shotgun regulars, and their work under Jackson's guidance reveals new depths. Dave Maier, Reid Davis, Andy Alabran and Clive Worsley bring fiery passion and broad comedy to their multiple roles and do some of their best work yet for the company.

Richard Louis James as Stanislavski makes a strong impression, especially in his final scene with Meyerhold (Cassidy Brown) when the two men, who for so long have fought artistic battles, join together to fight the rising oppression of the Soviet government.

Brown's Meyerhold suffers a fate common to central characters in a dramatic biography that renders the subject one of the least colorful people on stage. The performance is admirable, but the character is ultimately unfocused.

The show is virtually stolen by Beth Wilmurt as the actress Maria Babanova.

Auditioning for Meyerhold's company, Babanova performs her own version of "Hamlet" in which she plays all the parts wordlessly until the very end, when she whispers, "The rest is silence." Wilmurt is graceful, precise and utterly compelling. She is, in short, magnificent." * Actor & BM overview *
---
TOPICS: drama + comedy + postmodern + time + space + theory + BioMethod + objectives & obctacles + film + students + theatre w/anatoly +
---
Method & Biomechanics: From Gestalt perspective body is a personification of inner life; it is materialized contact-boundary between inner world and environment. Body and its gestures are what another person can experience. We can look at body experience as a key to awareness of feelings, needs, and wishes. Idea of wholeness of spiritual and physical dimensions were presented in actors masterpiece school of Stanislavsky and M. Chekhov.

(c)anatoly : filmstudy.org & vtheatre.net

[ subjects : head * shoulders * hands * arms * legs * fingers * more ]
* business: your ad here! *

^ your banners! ^
An online course supplement * 2005-2006 Theatre UAF Season: Four Farces + One Funeral & Godot'06
Film-North * Anatoly Antohin * eCitations *
Acting amazon
biomechanics home: 0 * 1 * 2 * 3 * 4 * appendix * links * references * notes * faq * archives * biblio * popup * list * 2007 google.com/group/acting2 * notebook * amazon.com/kindle * my shared page * lul teatr
igoogle.com | my.yahoo.com | my.live.com | my.msn.com
CALIGARI'09 groups.yahoo.com/group/vtheatre/cal CAST calendar [ Anatoly's calendar : web-events & LUL news ]