BIOMECHANICS: The Science of Acting... Math is PHYSICAL!
2009
LUL
[ advertising space : webmaster ]
THR221 Intermediate Acting

GeoAlaska: Theatre & Film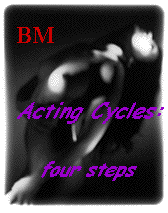 biomechanics.vtheatre.net
Spring 2003: Don Juan
film books

virtual theatre

THR121 Fundamentals of Acting Fall 2004

ShowCases: 3 Sisters, Mikado, 12th Night, Hamlet, The Importance of Being Earnest, Dangerous Liaisons, Don Juan

prof. Anatoly Antohin Theatre UAF AK 99775 USA
2006 *

* stageplays *

As you see I struggle with the structure of the book: between flowwing the the THR221 Intermediate Acting and the need for more advanced texts on Biomechanics. I know that I can introduce all new terminology in Acting II class.

Organization of the book : SYNOPSIS

You see on my BM webpages the links to VIRTUAL THEATRE; I advise directors to check the site, because Brecht and Meyerhold are VERY usefull for film, video and webcast. Actors should go back to Stanislavsky in order to understand how important the Method is for the closeups!

There are four parts (not two) in this book: Actor, Acting, showcases and the HOMEWORK. Five Parts, sorry: the last is the Apparatus (support pages).

The three and four (Theory in Action: Monologues & Scenes) are the most important. If you want to appreciate acting and theatre, you can skip it, but if you want to act -- you must do it, the homework. Try -- and you will notice that you have to go back to the two previous parts on theory of acting.

You must have you your actor's journal ready and take notes. If you do not have the journal, go, buy yourself a big notebook and come back.

Ready?

Do you have your scene or monologue selected?

No?

Go and get it! Put it in your journal -- you will be working on PRACTICAL tasks. (You might get it from my "Theatre w/Anatoly" site -- go to SHOWS directory, I have some from the plays I directed.

Where can I download the full text, Anatoly? Nowhere, not yet, kid!
---
THR221 Intermediate Acting (BM) Textbook Spring 2003:
Actors on Acting 051788478XSubscribe to my Open Class @ 12night
---
Summary
I don't know when I can finish the book. I even do not know when I will have to get to writing it. Anatoly, Nov. 2003




One Act Fest

2008 --
Notes
New addition: film acting pages *

2004 & After
---
INDEX * fundamentals of acting * Theatre w/Anatoly * Virtual Theatre * Theatre Theory * Virtual Theatre Forum * Classes * Method * StageMatrix: Directing * Script Analysis * Shows * Spectator * Plays * FilmMaking 101 * vTheatre * 200X Aesthetics * Mailing List & News -- subscribe yourself * BM+ *
& thr blog
BioMX Theory for Actors
There are pages I really have to work on. This is one of the special ones.
I am not sure that the four part structure (actor's text, chronotope, mono, scenes) is final. Too many things are left out. Well, I open bomechanics.vtheatre.net directory to experiment with the organization of the book.

Leonardo, Hands
preface : how the book was developed and how it's structured
intro : Theatrical Biomechanics, history and principles
Part I : Actor's Text & Acting Cycles
[ Performance as Text and drama as Pre-Text ]
Part III : Theory in Action -- Monologues
Part IV : BM in Action -- Scenes
body : physical action, body parts as actor's prop
space : structuring your acting areas
time : your role's time dimension
semio : creating the stage sentences
mise-en-scene : working your environment
spectator : actor's criteria
Theatre Biomechanics : the science of art
Biomech : Overview
BioMX : Summary
Biomex : In Class
Meyer-Review, History
Meyerhold, Director's Director: Breaking new grounds in Theatre Language.
Part V : Apparatus
Wedding one-act by Chekhov
* web & classes online : acting (Method)
Theatre w/Anatoly: Film-North or/and Virtual Theatre by Anatoly Antohin
Notes
The thing is growing and I can't keep up with the updating of the "old pages"!
---
TOPICS: drama + comedy + postmodern + time + space + theory + BioMethod + objectives & obctacles + film + students + theatre w/anatoly +
---
@2000-2003 index *

©2004 filmplus.org *

* home * about * guide * classes * advertise * faq * contact * news * forums * mailing list * bookstore * ebooks * search * calendar * submit your link * web * you may link to any page in my sites


Virtual Theatre: Stage, Film, Web = Future Forms, Theatre of One, the SpectActor!
Get Site Info
An online course supplement * 2005-2006 Theatre UAF Season: Four Farces + One Funeral & Godot'06
Film-North * Anatoly Antohin * eCitations *
Acting amazon