2009
LUL
teatr.us
... 2009 and LUL Theatre
---

stagematrix.com & meyerhold.us
2008 --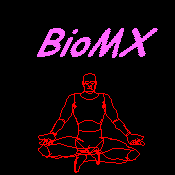 BioMX Forum [12th Night Archive]

Anatoly Antohin: 2002
In "Vsevolod Meyerhold," book by Jonathan Pitches [Routledge, 2003] it starts with the chapter "A Life of Contradictions." Well, the conflict, or dialectic, as Marxist would say, was the heart of Meyerhold's view of the world. In fact, the biomechanics are based on conflict. As drama is...
The book is not about Meyerhold. About his ideas on theatre. Even more specific -- on acting.
Is it a textbook?
I should say it's "Reading into Meyerhold"...
[ new images ]
...
---
INDEX * fundamentals of acting * Theatre w/Anatoly * Virtual Theatre * Theatre Theory * Virtual Theatre Forum * Classes * Method * StageMatrix: Directing * Script Analysis * Shows * Spectator * Plays * FilmMaking 101 * vTheatre * 200X Aesthetics * Mailing List & News -- subscribe yourself * BM+ *
& thr blog
ACTING BioMX Back Jacket
Biomechanics "Acting Two"
There are not that many books on Meyerhold and Biomechanics and no textbooks at all. This book is for students and theatre practioners: actors, directors, designers.
Who the hell is Anatoly?
It's me, Anatoly.
Once I was a playwright, director, man, male.
Now I am a professor.
I teach Directing, Acting, Drama (sometimes Film).
I still write. This online Biomechanics is a result of my old habit to write. I write about what I know. And I know that one day my teaching will come to its end. Somehow I fell that I must have a closure -- to put it out before I retire.
The online project began in 2001.
It took on a life of its own.
Now, 2005... And I still see no end of it.
Anatoly
...
Go there, if you want more theatre math and physics! You should!
...
Notes
A Note for the ones, who will quit theatre
Oh, yes, most of you will. My advise -- do it now, do it today, save yourself time and blood. Acting is not for everyone. It's only looks simple. It's supposed to look simple! The good acting, of course. There are many professions that do not require 24-hour work. some of them even pay well. Did you read the Cover page?
Let me finish this topic of the Actor's Attitute. Not long ago actors were prohibited from being buried in the same place with the rest of the people. Becoming an actor was a big deal, it was a family tradition. Today, actors became rich and famous. Most of them are not actors, but celebrities. If you want to be one of them, I can't help you. Help yourself. They are models, or one level above the fashion models. Nothing wrong with it, no! Nothing wrong with being a flower or a tree, but theatre has to do with it? "Social acting"? Become a lawyer!
I see, you want it quick! Try gambling.
Sometimes I wonder, do my students understand the size of competition they are against? There are millions out there! It's easier to become a president!
And something else; about lying to yourself. The problem is that all of them in my classes think that she or he is the best. Nothing wrong with it, what is wrong is that their feelings are half-hearted. They don't believe themselves. To doubt yourself is normal; not to trust yourself is wrong. Doubting yourself forces to work harder, the fear is good for you. But how real is your fear? How far will you go to defeat it? You have to have a strong character, kid, in order to serve your talent.

@2000-2003 index *

©2004 filmplus.org *

* home * about * guide * classes * advertise * faq * contact * news * forums * mailing list * bookstore * ebooks * search * calendar * submit your link * web * you may link to any page in my sites


Virtual Theatre: Stage, Film, Web = Future Forms, Theatre of One, the SpectActor!
Get Site Info
"In creating and performing in a play, there is a sense of common purpose, of living something outside of yourself, of hauling to one common goal. All these different artistic disciplines are corralled into one purpose, and in the process, incredibly strong bonds are created." Eric Stern
An online course supplement * 2005-2006 Theatre UAF Season: Four Farces + One Funeral & Godot'06
Film-North * Anatoly Antohin * eCitations *
Acting amazon
biomechanics home: 0 * 1 * 2 * 3 * 4 * appendix * links * references * notes * faq * archives * biblio * popup * list * 2007 google.com/group/acting2 * notebook * amazon.com/kindle * my shared page * lul teatr