Writer's Diary
I tried the diary format many times, maybe this one can work. I am not sure that I can do it every day. I still didn't find the site that can offer features for a notebook. I make my notes for my writing projects.
Cyber Anatoly
I'm thinking about a new name for myself -- Ana Toly (that's how they called me in the airport once). Maybe I shouldn't use my real name for the textbooks and save "Anatoly" for my nonfiction.
The Book of Spectator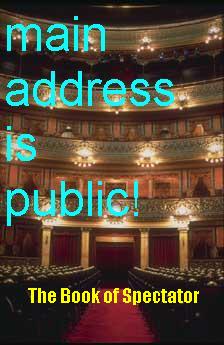 work-in-progress
Here's a picture of my recent virtual trip (writing).
To find the graphic tone for each writing project is not easy. I do not have time for Photoshop (I have no time even for the real paintings). I have to use the freebies and do some cheap (fast) text editing.