STOP Kremlin --
for the sake of Russia!
2008 -- "Anatoly.Ru" -- another PoMo war

Total Directing Total Acting

anatolant.livejournal.com + live internet.ru/anatolant

anatolant.narod.ru -- idle place

ma.gnolia.com/group/RU

my.live.com/RU

my.telegraph.co.uk/anatolant [blog] [en]

[ filmplus.org/album ]

in-russian :
... "Russian Theatre School" :
Stanislavsky +

... slovonovo.ru - modern street Russian language [ "new word" -- direct translation of this domain ].

Do I know what pages I won't be using myself after 2009?

"Russian Themes" -- ?

EDU -- ?

How little I know about myself, almost as I am back to being a teenager.

I hadn't expect it -- and I fear myself.

Very probable that I will write nothing, how else to explain why I haven't written what I should 10 or 20 years ago?

I hardly understand what I did a year ago. "Worked"...

What came out it?

[ filmplus.org/anatoly for film, bloglines for my "personal" notes? ]

... "2008" [web-project]

Enough about [presdo]-Russia. "RU" -- or RF.

After 08.08.08 [ War with Georgia ] the verdict is out. What "Russia"?

kremlin.ru?

Back 200 years?

Four centuries?

Moscovia! Russia before it became Russia.

Just forget it!

What does it matter anymore?

Could it seen in 1988?

I don't know; I didn't think about it then...

"Democratic Russia"? Who cares?

What is left? The three thousands of nukes?

What else?

A few thousands of decent people?

Language?

They will be gone -- and the nukes and the decent people.

What to expect? Troubles.

...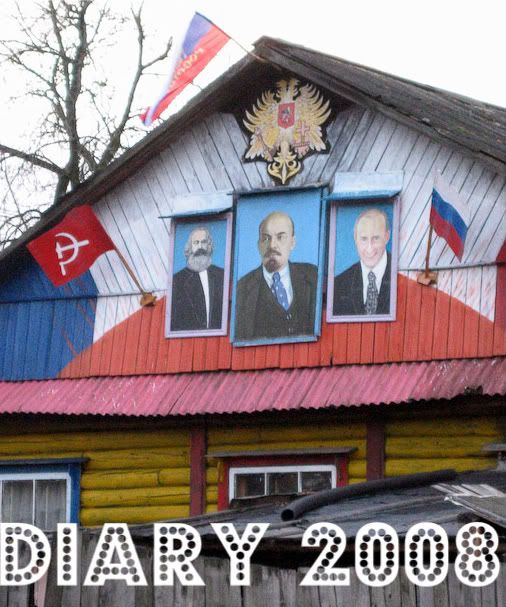 2009?
ET or ETHIO page?
Do they, Ethiopians, have a chance, following Russians?
... Театр Lul школа - Аддис-Абеба, Эфиопия 2009, художественный руководитель Анатолий Antohin: teatr.us
And even EU?
No US or USA...
Project "2008" [ diary.vtheatre.net ] -- mostly about my year, reading/listening to RU.
In Africa I will be American, not Russian?
30 year later I still think about my first life.
I don't know what to think...
About myself and Russia.
I have no heart to say -- die.
It takes place without me saying anything.
...
Another death, Alexey II died.
And -- again, what to think about him?
Неизвестный Солженицын Self-Portrait 1955
Russian 2008?
... no, Project 2009.
Two sides -- New American and New Russian, too complex to write about it here. Two domains for Utopia Porject [u21.us]
My Russian blogs? In 2009?
...
... should I bother with another "project"? Here it is the real live journal (what a name! -- vs. dead journal, old style journal, normal diary?).
+ commentary, what is better? [ Тёма вы ебанутый, но клёвый. ] Тёма ты невъебически крут.
... Вот акула, которая помрет, если остановится. New Zenon and his arrow.
[ later ]
---