Devil *
---
TOPICS: drama + comedy + postmodern + time + space + past + present + future + death + sex + resurrection + family + generations +
---
[ advertising space : webmaster ]




2003:


Theory of Spectatorship aDiary + Film-North Album (new)

The Evil Eye Story (later)

Satan -- the name was given to him. A new name.
Summary
After the Fall and before Now, known as human history. Somebody has to be this bad guy -- I took this position. Because my love for you, man, and my respect for him, our father...
Questions
Mefisto, Lucifer, Devil -- come on! Make your mind! What is his name, Anatoly?
Well, I am too have many names. Anatoly, Antohin, Citizen (including the number), Driver (another number), Consumer, Professor...
Notes
The story how Lucifer was foggiven. By me. That was all what was needed -- to be foggiven by a single human soul. That was God was waiting for and the angels prayed for their brother... When was it done? Do I remember the day, the hour, the moment?


fool.vtheatre.net [ru]

POV index * TECH index * SELF index ** appendix * list * popup * PostAmerica * Father-Russia * Write * Mailing List & News -- subscribe yourself! * Film600: Bad Theory, Wrong Subjects + script.vtheatre.net *
Part II: After the Fall and Before Now
I have many reasons why I can't finish the book. One of them --I am still looking for the right images and symbols. "Devil" -- for example. What is it? We use the old words without new visions: "War on Terror"? What is "terror"? We say "evil" -- could I see a symbol of it? Not many, too many, pix, but something they visualized 10 centuries ago. "Oh, my God!" -- you hear everywhere. What is "your God"? What a paradox: after a century of cinema we lost our ability to SHOW... I understand that everything is conrete nowadays: Your Devil today is different from Your Devil yesterday, but I feel blind. All I see this electronic wall of TV or computer. No, I can't expect to see the future without the picture of the present.
It's hard to see anything in paradise...
Devil
"Our fine arts were developed, their types and uses were established, in times very different from the present, by men whose power of action upon things was insignificant in comparison with ours. But the amazing growth of our techniques, the adaptability and precision they have attained, the ideas and habits they are creating, make it a certainty that profound changes are impending in the ancient craft of the Beautiful. In all the arts there is a physical component which can no longer be considered or treated as it used to be, which cannot remain unaffected by our modern knowledge and power. For the last twenty years neither matter nor space nor time has been what it was from time immemorial. We must expect great innovations to transform the entire technique of the arts, thereby affecting artistic invention itself and perhaps even bringing about an amazing change in our very notion of art." Paul Va1ery, PIECES SUR L'ART, Le Conquete de l'ubiquite

"Lucifer!" I called, I knew that he was here.

"Yes, sir," I heard his voice.

"What's the matter?"

"I don't want you see me. Not now. I am not in my best shape."

"What's happened?" I looked around, because the voice was coming from different corners.

"I am bad at the moment. You know, my other face...."

"What you are talking about?"

"I am talking about Devil...."

---
I hope that you already understand that Devil will be "resurrected" (or "created") way before before we get to "God"... And we doing it right now. All of us.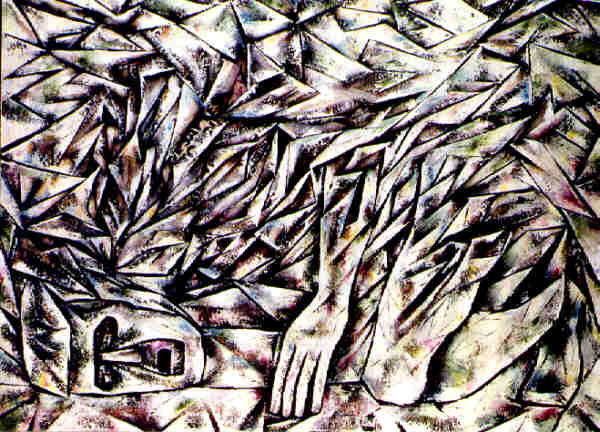 Hearing, 6 Senses, oil on canvas 36X48

@2000-2001-2003 film-north NEXT : part III * ©2004 filmplus.org *

* home * about * guide * webmasters wanted * classes * advertise * faq * contact * news * forums * mailing list * bookstore * ebooks * search * calendar * games * polls * submit your link * web *

2008 ?


FM : film making 101 (new) cine101.com
2005-2006 Theatre UAF Season: Four Farces + One Funeral & Godot'06
Film-North * Anatoly Antohin
© 2005 by vtheatre.net. Permission to link to this site is granted.