vtheatre : I = You = All = 0 *

Death and Dreams [ Project 2009 ] Stage One : Caligari

View blog top tags



Russian Corner -- New Russian -- Future ME
Americana vs. Russico : who is dead?
Two World : Inside-Outside
Who is dreaming, I ask you?
Them or I
... "Death" in Caligari
---
Film Anti-Theory * * Sorry, folks, I opened this directory too soon; the pages are not ready for you * 2007

Here I am trying to live, or rather, I am trying to teach the death within me how to live. --Jean Cocteau
---
[ advertising space ]
---
... pomo.vtheatre.net/dreams

2007 -- pomo.vtheatre.net
Summary
Sorry, folks, this is a new directory linked to another NEW directory at script.vtheatre.net/themes!
Questions
Brecht: Don't be afraid of death so much as an inadequate life.
Notes
Etsujin:
Covered with the flowers,
Instantly I'd like to die
In this dream of ours.
---
Death is not a thought anymore, not just a idea... it's my day, my tomorrow.
How does it look like?
...
Utopia & R/G are Dead ... POMO files!
"Death Song" -- dreams in caligari.vtheatre.net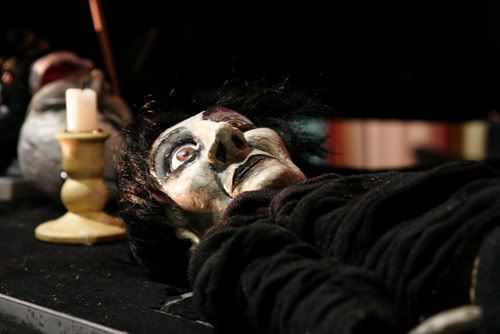 Why death is not the last enemy -- and not the worse thing!
Should I a question mark ?
... Euthanasia: the act of killing someone painlessly
(literally "good death" in Ancient Greek) refers to the practice of ending a life in a painless manner. As of 2008, some forms of euthanasia are legal in Belgium, Luxemburg , The Netherlands, Switzerland, the U.S. state Oregon , and Thailand ...
Mercy-killing
The expression coup de grĂ¢ce (pronounced ) (French: "blow of mercy") means a death blow intended to end the suffering of a wounded creature. The phrase can refer to killing civilians or soldiers, friends or enemies and with or without the consent of the sufferer.
[W]
And what is any suicide?
...
---
* 600index: Film-North Pages ** VIRTUAL theatre * Research * Spectator Theory * Film & Movies * POV * Theatre Theory * PoMo vtheatre * Mailing List & News -- subscribe yourself! Script Analysis * Themes *
DEATH, 600 Pages
Ionesco: Beauty is a precious trace that eternity causes to appear to us and that it takes away from us. A manifestation of eternity, and a sign of death as well.
death = not to be?
... See death page in script.vtheatre.net (what is the difference between dramatic and cinematic views?)

Theme-thought, according to different playwrights (Shakespeare, Ibsen, Strindberg, Chekhov and so on) and directors (Fellini, Kurosawa, Tarkovsky, Bergman pages).

Connection with other themes (list): family, gender and sex... self.

Finally, my own practical investigations: shows.vtheatre.net (only recently I began to make themes pages, Don Juan 2003, for example).

And the nonfiction (writing), of course: HIM, Father-Russia, PostAmeriKa, Self, POV, Tech (gatepages are in WRITE directory).

Yeah, yeah, there is more -- "philo" pages, metaphysics: in theatre directory, for instance (topics-bar: space, time and etc.)


Murakami, Kijo. (1865-1938):

First autumn morning:
the mirror I stare into
shows my father's face.


... picasa album iamges


Hashin:

No sky
no earth - but still
snowflakes fall


... [ video ]
Kato, Shuson:
I kill an ant
and realize my three children
have been watching.

[ how to explain haiku on this page? ] [ see script.vtheatre.net/themes/death.html ]
... What to remember? Forget it. [ To be unable to remember (something). ] What not to remember ? "Short memory"?

... Delete it. [ to exist ]

-- to be is to be recorded ?
... Hamlet and Godot


Ionesco: Since the death instinct exists in the heart of everything that lives, since we suffer from trying to repress it, since everything that lives longs for rest, let us unfasten the ties that bind us to life, let us cultivate our death wish, let us develop it, water it like a plant, let it grow unhindered. Suffering and fear are born from the repression of the death wish.

@2003-4 film-north *

... and youtube.com answers!

600 support pages: 0 & 1 * references * appendix * notes * links * faq * biblio * books * glossary * list * popup * blog * youtube.com/anatolant * keywords * swicki * flickr * themes * live.com/anatoly.org
2005-2006 Theatre UAF Season: Four Farces + One Funeral & Godot'06
Film-North * Anatoly Antohin
Copyright © 2005 by filmplus.org. Permission to link to this site is granted.
books.google.com + scholar.google.com * eCitations *
Lijit Search
vTheatre: postmodern project + diary [blog] my dictionary page